While bed bugs are small, they are not too small to see. This external parasite is about the size and shape of an apple. They have a flat body and a reddish-brown color but will become redder and swollen after feeding.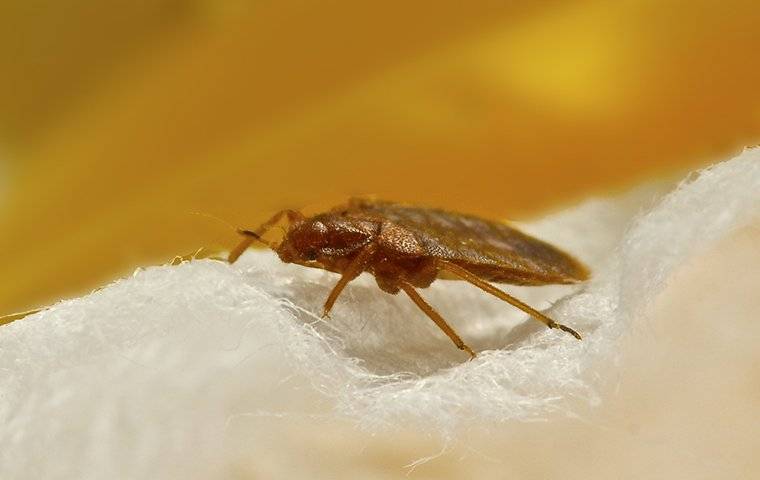 West Palm Beach residents don't want to be left defenseless against this pest as it is not one you can quickly get rid of on your own. For bed bug control that is safe and effective, you will want to call in the experts.
What Do Bed Bug Bites Look Like In West Palm Beach?
Bites are usually the first sign of a bed bug problem. Bed bug bites look like small red bumps around the neck, arms, face, and legs. Usually, they will appear in clusters and may be accompanied by staining on pajamas and sheets.
Although bed bugs are not necessarily dangerous, bites can lead to secondary infection and cause significant stress and insomnia. If you see signs of the pest in your home, you should not wait to get assistance with bed bug control.
How Bed Bugs In West Palm Beach Reproduce
Once bed bugs are inside a property, they will reproduce. During her lifetime, a female bed bug can lay over 200 eggs. Bed bugs lay their eggs in clusters in cracks and crevices where they are protected. This pest usually lives between two and four months but can survive up to a year in certain conditions.
To remove an infestation, bed bug control techniques must target this pest at every life stage, not just adults.
Bed Bugs Can Be Found In Places Other Than Beds In West Palm Beach
Due to their name, many people believe bed bugs are only found in and around beds. While this is their preferred location because they are nocturnal and come out at night to feed, bed bugs can spread throughout a home and even live in places that don't have beds at all.
It's common knowledge that bed bugs can be found in hotels and motels, but they can also live in places like restaurants, hospitals, theaters, public transportation, and schools. They can easily be picked up and spread throughout a community in these locations.
This is why knowing local pest control for bed bugs is essential. West Palm Beach residents can rely on Empire Pest Defense for their bed bug and pest control needs.
How To Stop Bed Bugs In West Palm Beach From Coming Back
Whether your home has just been cleared of an active bed bug infestation or you are trying to prevent one from ever happening, here are some tips to help reduce the likelihood of a bed bug problem:
When traveling, don't place your belongings on the floor, especially carpets. Inspect your hotel and motel rooms, including the luggage rack, which should always be used.
Before returning home from traveling, work, or school, you should inspect yourself, your children, and any bags.
Limit second-hand goods that are coming into your home. If you are using these items, thoroughly inspect and clean them before bringing them inside.
Vacuum your floors and upholstered items regularly.
Use a mattress and box spring cover. While these will not stop bed bugs from coming in, they will help prevent their spread.
Need local pest control for bed bugs? Contact us at Empire Pest Defense. We utilize bed bug control techniques that are safe and effective. With our services, you can have a bedbug-free home!